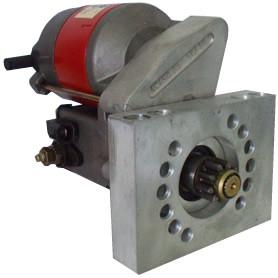 RS802 1.4kw
Chevrolet: 1.4kw, fits 13" and 14" flywheels. 10t 28mm replaces 9t 25mm pinion. Also available in 1.4kw. For Chev 14" ring gear installs the engine block must have 2 threaded "inline" mounting holes.
Buick: 1967 430ci.
Pontiac: 151ci, 231ci, 250ci, 262ci, 267ci, 305ci, 350ci
Oldsmobile: 231ci, 250ci, 252ci, 305ci.
Studebaker: 1965-66 All engines.
Warranty & Disclaimer